Fujishima, Kosuke. 2002. OH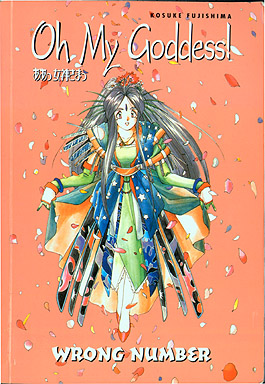 MY GODDESS! WRONG NUMBER.Milwaukie: Dark Horse Comics, Inc. ISBN: 1569716692.
Oh My Goddess! Wrong Number is a graphic novel geared for a young adult audience. It weaves romance, fantasy, and comedy into the storyline. The main character Keiichi is sitting at home taking his roommates' messages because he never has any luck with the ladies. While sitting at home, Keiichi accidentally calls the Goddess Technical Help Line where he gets the Goddess, Belldandy on the line. Belldandy tells him that she is able to grant him one wish. Keiichi jokingly wishes to have a goddess like her with him for the rest of his life, and so the story begins. Belldandy, herself stays with Keiichi which in turn creates havoc in his life. For example, Keiichi lives in an all male dorm and Belldandy gets him kicked out of it. When Belldandy's Spiritual Plane and Keiichi's Material World collide, many comical and unwanted events occur. Belldandy is completely devoted to Keiichi, which in turn makes all of the chaos bearable. Oh My Goddess! Wrong Number includes all of the stories previously published in 1-555-Goddess as well as some episodes that were omitted in the first volume. Fujishima's art is very detailed, creating a powerful sense of drama and humor throughout the story. School Library Journal states, "Fujishima's art and storytelling are less refined than in later volumes such as Childhood's End (2002, Dark Horse), but the stories still have plenty of charm and appeal." Manga or graphic novel enthusiasts should give Oh My Goddess! Wrong Number a try.
Topic 1: Michael Printz Award Winning Book